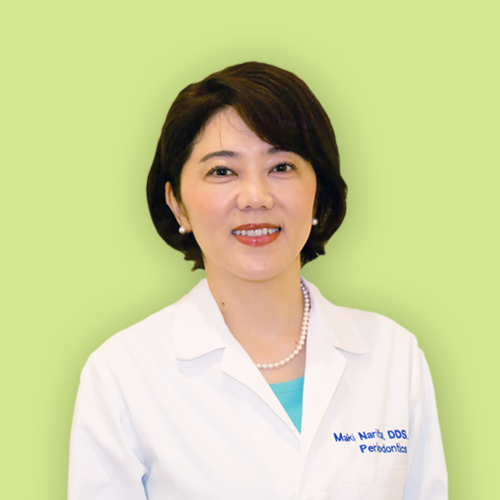 Dr. Maki Narita is a board-certified periodontist (specialist for gum surgery and dental implants) licensed to practice in California, Texas, and Japan. After graduating from St. Maur International School in 1988 with an International Baccalaureate Diploma, Dr. Maki Narita attended Showa University School of Dentistry in Tokyo. Upon graduation, she continued her studies in dentistry by moving to Los Angeles, CA where she received her D.D.S. (Doctor of Dental Surgery) from University of Southern California (USC) School of Dentistry in 1998. While working as an associate dentist at several offices, Dr. Maki also served as a part-time clinical instructor at USC School of Dentistry. In 2001, Dr. Maki and her sister Dr. Mie Narita established Narita FamilyDental, which to this date successfully operates with offices in Torrance and Costa Mesa, CA.
Dr. Maki has also been involved in interpretation and translation services specializing in dentistry since 1997. Drs. Maki and Mie founded Global Harmony to offer consecutive and simultaneous translation services for both English and Japanese speaking dentists at universities, conventions, and meetings, as well as logistical services to dental seminars for Japanese dentists. After being a general dentist for 12 years, Dr. Maki decided to specialize in periodontics and successfully completed the Postgraduate Periodontics Program at University of California, San Francisco (UCSF) with a Masters of Science Degree in Orofacial Sciences in 2013. Since then, she has been appointed as lecturer to teach 3rd and 4th year dental students at the University of California, Los Angeles (UCLA) School of Dentistry Section of Periodontics. Dr. Maki was also appointed as lecturer at her alma mater, Showa University School of Dentistry Department of Orthodontics in 2014.
Besides practicing periodontics/dentistry and teaching dental students, Dr. Maki enjoys spending time and playing golf with her husband Rick and her daughter Miyuki.